Our Story
Since December 2013, owners Tony and Heidi have been proud to serve "real food," from their converted farmhouse in Carrabassett Valley. Their menu is expansive and varied, with seasonal dishes made from ingredients purchased from local farmers whenever it's an option. They also raise pigs and goats and have chickens on site for fresh eggs. The seafood is usually from the Gulf of Maine, striving for sustainability.
Events
Join us on Wednesdays for Two-Fer Night, with a new menu each week.
Dining Room Hours:
Wed. thru Sat. – 4:30 to 8:30
Accolades
"It all started with a dog and a snowstorm. Tony Rossi and Heidi Donovan routinely walked their pup past an abandoned farmhouse for sale in Coplin Plantation (population 166), located on the outskirts of Stratton Village in the western mountains of Maine. One day they saw that drifting snow had pushed open a side door. They ventured inside to take a look. Crossing that threshold started a metaphoric snowball rolling."
---
After living and working together for 11 years, owners Heidi Donovan and Chef Tony Rossi realized their dream and opened The Coplin Dinner House. This is how they got there…
Tony & Heidi's history
Tony grew up in Gardiner, Maine, where his passion for food and restaurants began at a very young age.  He got a paper route at the age of 12 and that's when he got the bug. One of his customers that he delivered to each morning was the owner of Giberson's Diner (now A-1 Diner). When Tony finally got his first payday, he went down to the diner and spent his money there, getting the classic diner fare — he was hooked on restaurants. He spent all of his collection money there, even what he owed back to the paper. That job didn't last long!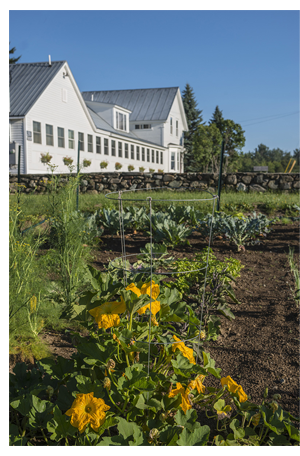 The love of the restaurant world begins
At 14, Tony began washing dishes at a busy Mexican restaurant. After a month he moved up to line cook and at age 18 was running the kitchen. After a few years, he headed to Boothbay Harbor in the summers and Sugarloaf Ski Resort in the winters, running the kitchens at several restaurants, including McSeagull's, Brown's Wharf, The Black Bear Café, Gepetto's, and The Shipyard Brewhaus. He went to Portland for a year or so and worked at the critically acclaimed fine dining restaurant, The Back Bay Grill, where he learned the art of fine cooking where ingredients and technique drive the menu.
Heidi started her restaurant career in Portland working at places like Brian Boru's. Her father had a ski chalet at Sugarloaf and she grew up visiting the mountain. She moved up full time after high school and started working the restaurant scene at The Loaf. That's when Heidi and Tony ran into each other and ended up hitting it off. She ran the bar while he ran the kitchens at Gepetto's and The Shipyard Brewhaus.
A chance encounter …
After a while they knew they needed their own restaurant, but the challenge was where. On mountain at The Loaf would have been their first pick, but nothing was available. One snowy day while walking near their home, about 6 miles north of Sugarloaf, they saw the wide open back door to an old abandoned farmhouse and decided to take a look inside. The place was under foreclosure and had been for sale for some time. As they walked through the 1896 farmhouse that was once the largest dairy farm in the area, they instantly started thinking that it would make a great restaurant. "The bar could go here," "we could blow out this wall and open up the porch to dining." All of which happened. Eventually!
After a lot of thought, they put in an offer on the house, only to find the house had been put to auction. They watched the online auction for weeks. The reserve was too high and no one bid on it. The house went to another auction company, and they simply forgot about the idea. About two months later, the realtor said "it's back on the market." Tony and Heidi put in a very low bid, which was refused with a counter. This happened about 12 times over two weeks and they finally agreed on a very reasonable price!
… and lots of hard work
The work had just begun. The house was in disrepair and it was only residentially zoned. It was located in unorganized territory and getting the zoning changed proved to be a challenge. But, after tons of red tape, they were ready to begin construction. They left the classic farmhouse features like the tin ceilings and the hardwood floors. They found some beautiful large stuffed chairs and put up photos from a local artist. They began construction way after schedule, in late September, and opened only a few days late on December 21st 2013, just a few days before the busy Christmas break.
They were busy from the start.
The staff
Tony and Heidi knew they had to be very selective when choosing staff for The Coplin Dinner House in order to get the great hospitality vibe they were shooting for. They found the best wait staff the area had to offer, a couple of friendly, knowledgeable bartenders, and some terrific chefs in the back of the house. Heidi is usually at the bar and Tony is always leading the kitchen.
The food & drink
For five years, during the off season while working at The Shipyard Brewhaus, Tony and Heidi hosted a series of locavore dinners. These were six-course feasts featuring local food and Maine wines. Guests sat at communal tables and Chef Tony would come out during each course and explain where the ingredients came from. These dinners were a big hit and they are continuing the tradition at The Coplin Dinner House.
Tony and Heidi try to use fresh and local ingredients to drive their dishes — they like to call it "real food." The menu is expansive and varied. It's printed daily and the dishes are seasonal, with ingredients purchased from local farmers whenever it's an option. They also raise pigs and goats and have chickens on site for fresh eggs. The seafood is usually from the Gulf of Maine, striving for sustainability.
The restaurant's Tigerlily Pub seats 35 and is a big hit with those who want to be a little more laid back and enjoy some local conversation. The pub menu features great burgers, tacos and sandwiches.
Heidi drives the bar's cocktail menu with local and seasonal ingredients, as well. Her signature cocktails and martinis are crowd pleasers. She also features several Maine and local beers and small batch Maine spirits.